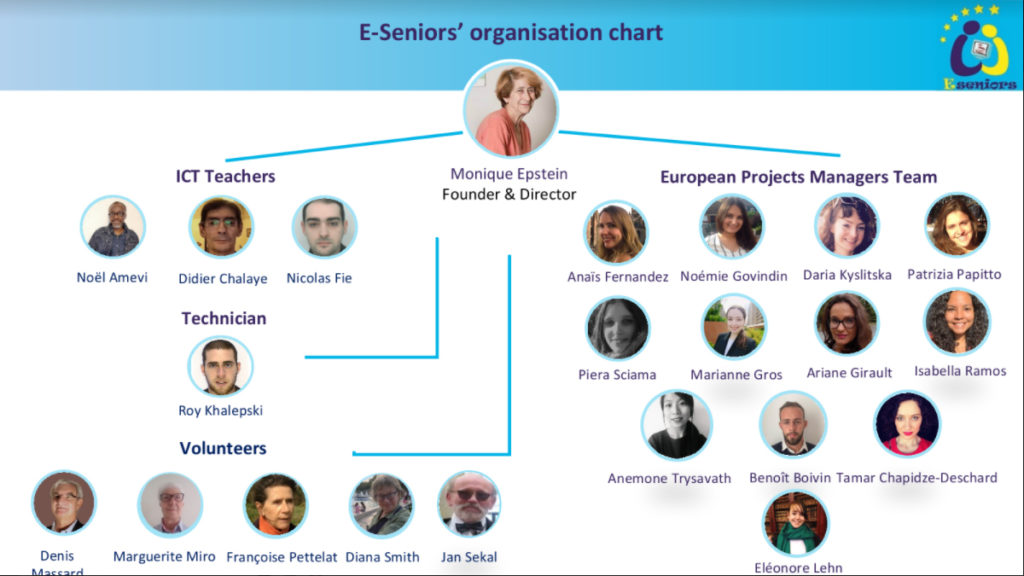 Key Staff Members Profiles
Monique EPSTEIN– director and founder of the association
Senior Consultant, Ms Epstein has strong expertise in application design consulting services and project management. Starting her career as a Math teacher, going over to computers Analyst/Programmer, moving on to designing and implementing RDBMS-based information systems, Monique re-oriented her career in 1994 towards multimedia application design, working as Project Manager, and Consultant. Monique has a MA in computer science. She looks forward to work with the latest technologies and is eager to learn new skills on various technical training courses. Since 2004, she has created several non-profit organizations whose common aims are helping e-excluded people (seniors, disabled people and juniors) to get familiar with new technologies.
Ariane GIRAULT
After several degrees in law, political sciences, information and communication, Ariane Girault was employed by the French Ministry of Defence as a jurist. Then, in order to deepen her knowledge of the non-profit organization system, she worked in an association for a year as communication officer. In the meantime, she volunteered in an organization dedicated to European youth. She is now a part E-Seniors' team and works as a European project manager.
Daria KYSLITSKA
After a Bachelor Degree in International Relations in Ukraine she got two Master degrees in Political Sciences and European Project Management in Paris. She multiplied her experience by doing several internships and working in particular in the Turkish Cultural Centre and in the French regional association. Currently she is a member of E-Seniors team where she has been working as a European project Manager since 2013.
Anaïs FERNANDEZ
After a Bachelor degree in History and Foreign Languages from the Sorbonne Paris IV University, she graduated from the University of Vincennes-Saint Denis (Paris VIII) with a Master degree in European Studies and International Relations. Then she worked in the French Institute for International and Strategic Affairs, an independent think-tank on geopolitical and strategic issues and then in a humanitarian association for children as project officer. Since 2013 she works in E-Seniors association as a European project manager.
Patrizia PAPITTO
Patrizia is graduated in European project management and in technical translation (English-Italian, Spanish-Italian). After several experiences in the field of education in Spain, Australia and Italy, she trained as a project manager in a cultural association in Paris and as a parliamentary assistant in the European Parliament in Brussels. Patrizia joined the staff of E-Seniors in March 2014 as a European project manager.
Piera SCIAMA
After a Bachelor degree in Political science, Piera graduated from Sciences-Po Paris and the London School of Economics with a Master in European affairs. She worked in Brussels as a research assistant at the French social protection, at the European Commission (DG CONNECT) and at a consultancy group in the field of ICT. Later on, she joined an association specialized in education in France. Since June 2017, Piera works at E-Seniors as European project manager.
Noémie GOVINDIN
Noémie graduated from the University Paris-Est Créteil with a master degree in Public Policy, International Humanitarian Action. She interned for several non-profit organizations such as the Order of Malta, Haiti Futur and Par Le Monde, and particularly worked on projects focusing on digital education. She joined E-Seniors' team in September 2019 as a European project manager.
Marianne GROS
Marianne graduated with a Master's degree in European Project Management from Strasbourg University. She worked for the French National School of Administration, the GROUP SOS and the Chamber of Commerce and Industry in Paris. She also worked in Germany and Japan, and then has joined the E-Seniors' team since October 2020 as European Project Manager. She has mostly worked on H2020 and COSME projects.
Besides the European project managers team, we have a team of teachers who take care of the workshops about teaching seniors how to use computers, Internet, tablets and smartphones
Isabella RAMOS-MENDOZA
Isabella has a master's degree in European project management from the ITIRI of Strasbourg and joined the team in August 2021 after an internship in the department of European and international relations of the City and Eurometropolis of Strasbourg as European project and network manager.
Benoit Boivin
Benoit graduated with a Master's degree in Political Science from University of Montpellier and graduated with a Master's degree in European Affairs from Lille University. After an internship in the Equestrian Federation in France, he joined the team in august 2021.